Durban High School


Class Of 1961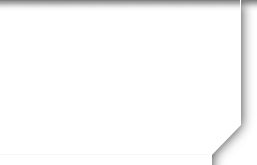 DHS Today
This section of the website is devoted to significant surrent news about Durban High School, and to the activities of the DHS Foundation, which provides financial and other support to the school. More detailed information can be found at the school website, www.durbanhighschool.co.za.
_________________________________________________________________
6 February 2020
DHS TO STOP SPORTING CONTACTS WITH GLENWOOD
The school has announced that it will no longer play rugby against Glenwood, apparenlty as a result of "poaching" of DHS players by our ancient rival. See the news item below.
Sports row rocks Glenwood High School, Durban High School rivalry
KWAZULU-NATAL / 6 FEBRUARY 2020, 12:22PM / DAILY NEWS REPORTER
Durban - Two of Durban's premier sporting schools will not play each other at any sports this year after Durban High School (DHS) cancelled all sporting events with its main rival Glenwood High School over allegations of player and coaching poaching.
The severing of ties between the two school also means that Durban's oldest schoolboy rugby rivalry - a fixture on many rugby fans' calendar and an event which first took place in 1925 - will not go ahead.
There are several allegations, while not confirmed by either school, that Glenwood poached several talented sportsmen from DHS this year.
Paul Spooner, the chairman of Durban High School Governing Body said it was with regret and a heavy heart that they decided to discontinue all sporting fixtures against Glenwood High School for the foreseeable future.
"This was not a decision that the School Governing Body has taken lightly, but it is a result of a variety of situations that have been building for some time and which have culminated in recent incidents which we strongly feel cannot be condoned or overlooked," he said in a statement.
"The DHS management team is of the opinion that the relationship and trust between the two schools has deteriorated to such an extent that holding sporting fixtures is no longer in the best interest of the two institutions, or beneficial to current and future learners of DHS. Durban High School has great respect for the many traditions and long history that we share with Glenwood and will continue to endeavour to improve the relationship. It is our view that once we are afforded the respect we believe is due to us and trust is restored, we will be in a position to consider sporting contact in the future".
Dr Andri Barnes, headmistress of Glenwood High School said they were very "disappointed" that Durban High School had severed all sporting and cultural activities between the two schools.
"It is unfortunate that a resolution could not be reached as was the case in 2013 when a similar issue arose between the two schools. Glenwood abides by the protocols established by the state boys' high school with regard to admission, pupil transfers and teacher recruitment. Glenwood is committed to continuous dialogue and mutual co-operation between the two schools. We will always be guided by what's best for the boys," she said.
It is not the first time that Glenwood High School has been accused by schools in the Durban area of "unethical sportsmanship".
In 2013, Westville Boys' High, suspended top-level sport after a disagreement over a rugby player who Glenwood imported from Pretoria's Waterkloof High School in 2011. They were joined by Durban High School who also refused to play against them that year after accusations that Glenwood poached a cricket player from them.
In 2014, Hilton College said it could no longer play Glenwood High School as Glenwood's rugby was "too professional".
Speaking at the time,
Hilton College headmaster Peter Ducasse said they decided to discontinue playing against Glenwood as they saw no educational value in playing matches where the contest is decidedly one-sided.
"The simple reason for this decision is that Glenwood High School's fairly recent strategy has, in our firm opinion, now moved them into a different league," he said.
____________________________________________
4 May 2019
SAFE SCHOOL SEMINAR
As result of a agreement between DHS and a group of Concerned Old Boys following revelations of sex abuse by Jiggs Gray and others, the School is hosting a series of seminars on the topic of safe schools. The first of these was held on 10 May. Below is a copy of the School's advertising flyer for the event. For further information on the DHS safe schools program, see www.safeschoolguide.co.za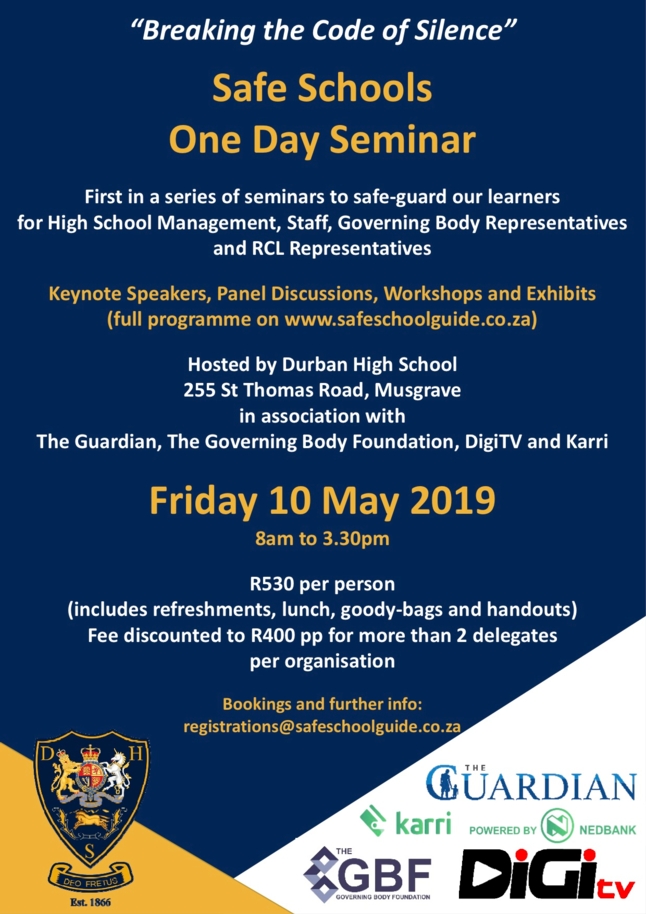 ___________________________________
13 April 2017
New Headmaster for DHS: Tony Pinheiro

The much anticipated announcement of Tony Pinheiro as the new Headmaster of Durban High School has been released by the Department of Education. Seen as one of South Africa's leading high school educationists, Mr Pinheiro will take up the new appointment on 18 April 2017.
Mr Pinheiro started his teaching career in 1992 and joined Glenwood High School in April 1994. As the Senior Deputy Principal at Glenwood High and the Head of the school's Gibson House Boarding Establishment, Mr Pinheiro has had a significant impact on the young men that have passed through his hands during this period. He is married to Colleen, a highly respected educationist herself. His daughter, Cassandra, is in her final year as a Bachelor of Science student at Stellenbosch University, whilst Dominic his son, is currently in Grade 12 and a Prefect at Glenwood High School.
Mr Pinheiro is an avid reader and accomplished chess player and enjoys both sport and travel. He has a Bachelor of Education (Honours Degree), and has a particular interest in Educational Management and Law.
Mr Pinheiro has acted as the Headmaster of Glenwood High since February 2016, and will bring a wealth of experience to his new position as Headmaster of Durban High School.
Highly respected by all the young men who have experienced his leadership skills, Mr Pinheiro will no doubt have a significant impact on the future of Durban High School. He will team up with the former Head of Glenwood Preparatory, Mr Louis Ardé, who was recently appointed CEO of the DHS Foundation.
These are indeed exciting times for Durban High School, and the staff, pupils and Old Boys, all extend a warm welcome to Mr Pinheiro and wish him every success in the future..
_________________________________________________________________
DHS HEADMASTER LEON ERASMUS RESIGNS
After seeing the School through its 150 Year Anniversary celebrations, as he had promised when he was appointed less than four years ago, Headmaster Leon Erasmus has resigned his position in order to take up a new appointment in the Cape. Mr Erasmus was highly regarded during his brief tenure. His resignation announcement is below.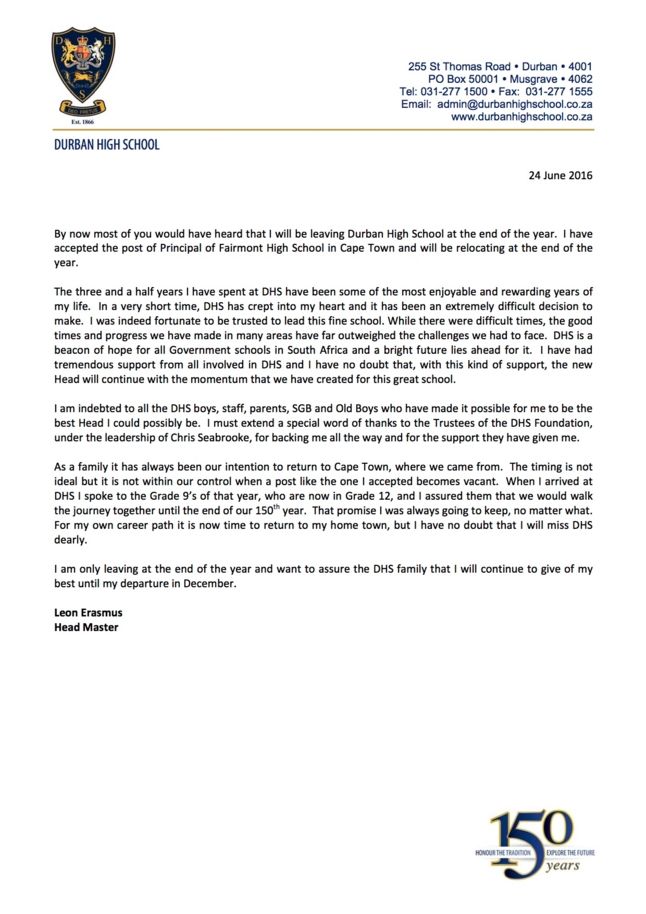 ________________________________________________________________
JIGGS GRAY MATH PRIZE RENAMED AFTER TREVOR WADLEY
The School Governing Board has announced that Jiggs Gray's name has been removed from the school mathematics prize. It will be replaced by the name of Trevor Wadley, an old boy of the school and a distinguished electrical engineer (see https://en.wikipedia.org/wiki/Trevor_Wadley).
Below is a press report on the announcement, from the Daily News, 12 February 2016: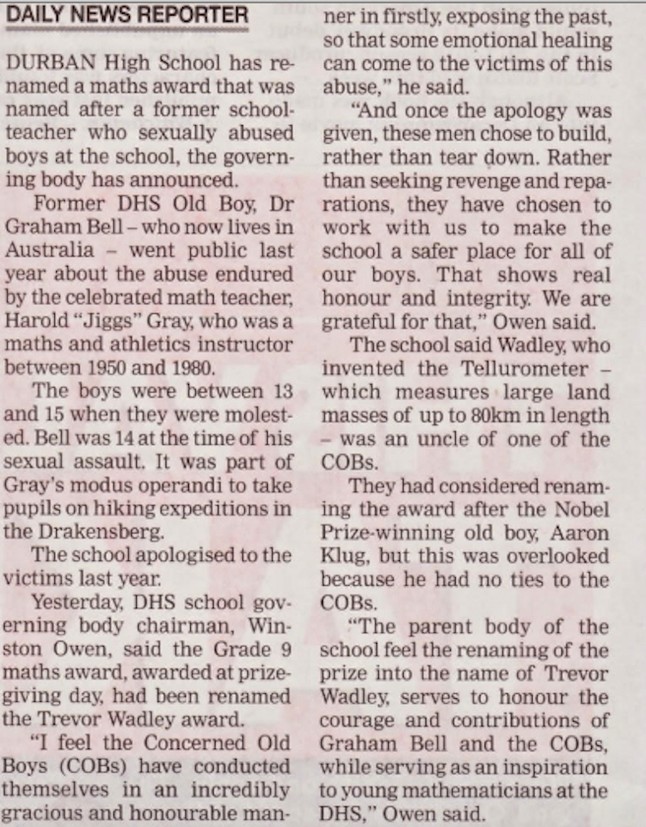 _______________________________________________________________________________________
ANNOUNCING 150 YEAR ANNIVERSARY CELEBRATIONS....

_________________________________________________________________________________
PUBLIC STATEMENT ON SEX ABUSE BY TWO DHS TEACHERS
6 June 2015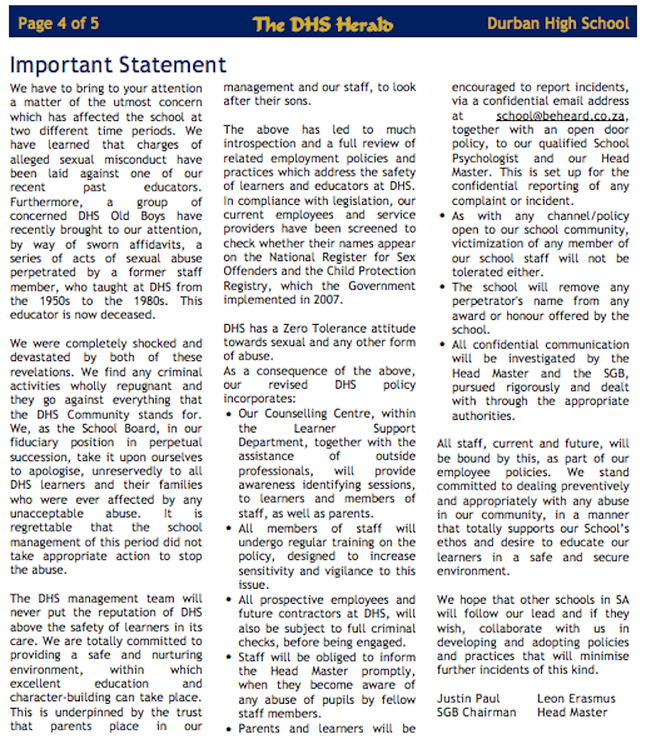 ________________________________________



REFURBISHMENT OF BLACKMORE HOUSE
.
Over the 3-week July holiday, the Durban High School Boarding Establishment, Blackmore House, which is home to about 120 boys at present, underwent a much needed refurbishment. The revamp of the interior of the house was undertaken by Taylor'd Interiors, a Morningside based company that is owned and managed by Vanessa Taylor. Her vision for the house was clean, neat, tidy and modern. The exterior of the building was completed by Gordon Verhoef and Krause, the leading specialists in building, renovation and recycling of buildings.
By the end of the holidays the project was near completion and was therefore handed over by the contractors to the DHS Foundation CEO, Mike Fennell, to mark the official opening. On Sunday, at the start of this term, the Blackmore boys arrived back to a new and improved living environment, with upgraded toilets, bathrooms and dormitory bedrooms, as well as a newly refurbished reception area, prep and common room. A few minor touch ups, here and there, and the revamp is set to be wholly completed by the end of the term.
Restoring Blackmore House to its former glory has been part of current Head Master, Mr Leon Erasmus's vision for the School. The DHS family believes that a strong and vibrant boarding house is essential and that the boys need to live in a homely, neat and safe environment – the final completion of this project will create exactly that.
Mr Erasmus would like to thank Chairman of the DHS Foundation, Mr Chris Seabrooke, CEO, Mr Mike Fennell, and the DHS Foundation Trustees for their financial and moral support of this project. And a special thank you to the Old Boys of DHS who have contributed to the Trust for their on-going support of the School.
_________________________________________________________________________________
OLD BOYS DONATIONS TO THE SCHOOL FOUNDATION
AUGUST 2014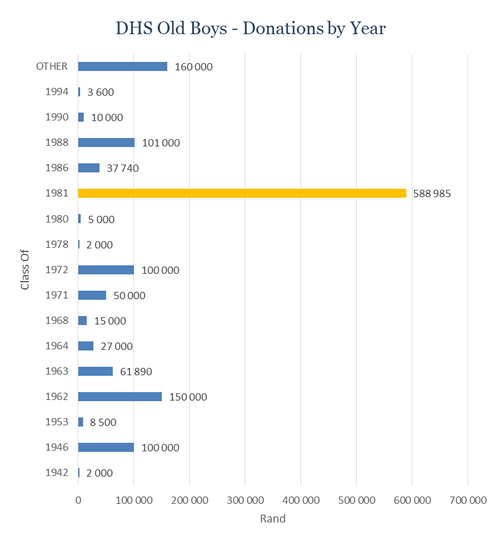 ____________________________________________________________________________________
The DHS Foundation has celebrated a windfall in that the sale of the property which currently hosts the DHS Old Boys Club and some lessees, has been sold for R50m – R5m in excess of what was originally anticipated earlier in the year when the call for proposals was networked extensively internationally, nationally and to the Old Boys network to ensure that as many as possible had the opportunity to put forward a proposal.
The property which measures 4,3 hectares (43 000m2) and is flanked by Marlborough Crescent and Gainsborough Drive in Durban North has been sold to a private developer, whom together with other tenderers, was subject to a stringent adjudication process by the Foundation and attorneys Garlicke and Bousfield. The evaluation of the proposals took purchase price, satisfactory financial guarantees, deposits, acceptable and realistic land usage, sustainability of the proposed project and effects of the proposed development on the neighborhood into consideration.
The transfer of the property is subject to the successful completion of an Environmental Impact Assessment (EIA), rezoning of the property from Private Open Space to Residential, and various other statutory requirements being met, all of which the developer has until January 2016 to complete.
The intended usage for the property is for a low density, up market residential development and a spokesperson for the developer has confirmed that every effort has been made to take the environment into consideration with only twenty nine percent coverage of the site, and the remaining seventy one percent being open space and waterways.
In keeping with the property's significant history, in that it was purchased as a memorial to Old Boys of the school who had fallen in the First and Second World Wars and was subsequently developed as a sporting and clubhouse facility for DHS Old Boys, the developers have allowed for a servitude over the property in which a War memorial is to be erected.
Included in the proposal submission by the developer was an initial traffic study, but a full Traffic Impact Assessment will be required prior to any development approvals being granted for the site. A representative from the Foundation will attend all development meetings to ensure that due process is followed and that there are no unreasonable delays. The process is also intended to be fully transparent in that there will be public presentations and neighbours will have the opportunity to comment on the proposed development.
Chris Seabrooke, Chairman of the DHS Foundation Trust, has expressed his delight in the sale of the property, saying: "For some time, the Foundation wrestled with how the full value and potential of the property could be unlocked, but we now appear to have a winning formula. The income generated from the investment of the R50m will now provide substantial and consistent funding from the Foundation to DHS for scholarships and capital expenditure, thus ensuring the perpetuation of the DHS Heritage of Excellence which was established in 1866."
______________________________________________________________________________
FOUNDATION APPEAL
11 MARCH 2014
The school is currently in serious financial difficulties as a result of changes in the level and sources of its funding. Our classmate Ray Lalouette, who is doing fine work with the DHS Foundation, has issued this very informative letter to our classmates, along with an appeal for funds for the work of the Foundation:

THE DHS FOUNDATION TRUST
No: IT 1146/1946/PMB
11th March, 2014
Dear Class of 1961
The DHS Foundation has been established to generate financial support for DHS through a partnership with the school community of Old Boys, parents, staff and pupils. The Foundation aims to ensure the continued growth of DHS as a centre of excellence, learning and opportunity. The Foundation seeks pledges of support, whether it be financial or in the form of sharing expertise, in order to ensure that the strategic objectives of Durban High School are met now and in the future.
The DHS Mission Statement, appearing in the school's website, reads as follows:
Durban High School strives to develop responsible, motivated young men with strong moral convictions and integrity, who, possessing self-discipline and courage are capable of leading with strength and compassion to meet the challenges of the future.
Our ethos enables us to realise individual potential in Academics, Sport, Cultural Activities, Leadership, Outdoor Experiences and Service to the Community.
We pride ourselves on achieving this by the nurturing of loyalty and respect, the honouring of all relationships, and through a commitment to hard work, in a secure environment which embraces the diversity of South Africa.
The objective of the Foundation is to assist in the regeneration of DHS as the pre-eminent boys' high school in Durban. The purpose behind the objective is to participate in the reformation of scholastic education in order to achieve school leavers who are not only functionally literate and numerate but who have benefitted from a broad education that will equip them with life-skills that will be relevant in their choice of careers.
A sad reality of so-called government schools is that the funding for the provision of education is woefully inadequate – DHS, by way of example, receives approximately 17% of its annual income, funded by the Department of Education; the balance needs to be sourced from students' fees and fund raising by the school. The source of funds derived from students' fees is a constant nightmare as many pupils qualify for a reduction in their fees.
Fund raising on the part of the school has been very challenging and for some time now has been inadequate. The shortfall has been funded by The Durban High School Foundation Trust. Now, while the Foundation is quite prepared to continue some level of funding, it has become apparent that it is most ill-advised for the status quo to remain. Something has to be done.
It is the considered opinion of the board of trustees of the Foundation, in conjunction with the school's governing body, that a different approach needs to be embarked upon to encourage an improved student diversity, who understand that a school cannot exist unless its costs are paid for. The reality has to be faced that quality education has to be paid for. The Foundation's trustees believe that improved and enhanced school facilities will attract pupils from families who are not only in agreement with the principle of paying for quality education but who also have the capacity to meet this commitment. In addition, cognisant of the need to support and encourage pupils from less financially secure families, who have the potential to achieve commendable levels of academic and sporting achievement, the Foundation must acquire the capacity to fund relatively significant numbers of bursaries.
The challenge will be to manage the appropriate 'mix' between fee paying students and those students who benefit from Foundation sponsored bursaries. Given the necessary financial capacity, it is the fervent hope of the trustees – and I am sure, that of all Old Boys – that the school will attract a suitable mix of really fine pupils who will develop and thrive academically as well as in the various sporting fields and cultural activities.
The initial project is to refurbish Blackmore House, which has been allowed to deteriorate to an unacceptable level. The budget for this refurbishment is estimated to cost in the region of R2.5 million which will include some fairly substantial re-wiring. One of the anticipated benefits, apart from the obvious improvement in the conditions for the occupants, is that it is believed that a refurbished boarding establishment will encourage pupils from areas other than the immediate environs of DHS, to join DHS as boarders. As places at Blackmore House are subject to interviews by the management of DHS, care can be taken that the applicants will be demonstrably capable of meeting their financial commitments to the school. Emphasis will also be placed on the potential for academic, sporting and cultural prowess. Without attempting to sound elitist, the reality of life is that the adage "success breeds success" will continue to apply.
Another goal of the Foundation is the general upgrading of school buildings. The plan for a dedicated Mathematics and Science Centre is being developed and it is also anticipated that the IT Centre will be upgraded.
Our appeal to those Old Boys who have benefitted from a sound secondary school education at DHS, and who entertain an awareness of their need to reflect upon their success in life, is to identify with this very worthwhile enterprise. Help us 'make a difference' by restoring DHS as a school of excellence.
We want to produce an ever increasing number of high achievers who will in turn contribute to the growth and development of this beautiful country, so that in another 50 years, Old Boys of the day can reflect with pride that DHS has continued to uphold its legacy of producing not only leaders and high achievers, but also a solid body of 'boys' who are the salt of the earth, imbued with a sense of pride in their own achievements as the 'product' of a really fine school. And your grandchildren can also bask in the pride of knowing that your contribution made that possible. The 200-year anniversary celebrations will include your name in pride of place among the benefactors who helped to restore DHS to its historical place as the top boys' high school in Durban. Who knows, maybe it will be a co-educational school by then, but whatever its student body classification, it will remain the school to be proud to call one's Alma Mater.
You would provide a legacy for your grandchildren in the widest sense, in that you would be contributing towards the uplifting of educated youths in general – albeit on a smallish scale – using the medium of Durban High School, which will perpetuate the image of 'School' as a beacon of secondary school education in Durban.
Last year, three Old Boys made a most commendable commitment. Stephen Saad, Christopher Seabrooke and Howard Buttery each committed R1 million per year for 3 years to the Foundation. They have appealed to the Old Boys' fraternity to join in this most worthwhile endeavour and to donate funds generously. In addition to lump sum payments that some Old Boys may be able to provide, there will be many instances where Old Boys feel it will be more suitable to make monthly payments. Stephen Saad has expressed the hope that as many as 3000 Old Boys will commit at least R100 per month, for 3 years, to the Foundation. Old Boys will be well aware that donations towards the Foundation qualify as a deduction in terms of the Income Tax Act.
If you are willing to contribute to the Foundation, you can simply go to the Foundation's website (see above) and click on "Fundraising" and then "Pledge Now" and enter the details on the form and email Liz Foster. All contributions will be acknowledged and recorded for posterity.
Yours sincerely
Ray Lalouette
I have recently joined the Foundation's staff as a fund raiser and would be happy to discuss any concerns or queries you may have. My contact details are 082 552 0840 and raythelark@gmail.com
______________________________________________________________________________________
CEO Mike Fennell
Trustees : Chairman: C Seabrooke, S Saad, B Armstrong I Corbishley, R Neave, D Speirs
P O Box 50001 MUSGRAVE, 4062 ( 031 201 2284 fax: 086 732 9063 www.dhsfoundation.co.za
______________________________________________________________________________________
NEW HEADMASTER
APRIL 2013
The Governing Body of Durban High School are excited to announce the appointment of
Mr Leon Erasmus as Principal of Durban High School, effective from 8 April 2013.
Leon is joining the DHS family from Rondebosch High School in Cape Town, where he has served as Deputy Principal since 2004. Leon has gained exceptional leadership attributes having had experience in many areas of educational responsibility at a leadership level, including representation on Governing Bodies over the past eighteen years. He is passionate about education and the moulding of youngsters into future leaders.
Leon was schooled in Queenstown before joining the education profession. He was then appointed HOD at Queens College and subsequently promoted to second Deputy Principal. In 2004, he moved to Rondebosch Boys' High School where he took up the post of Senior Deputy Principal, a position he has held for the past eight years.
Leon also has an outstanding organisational and managerial track record within secondary education, believing in dynamic leadership whilst still being approachable and a good listener. He also has experience in performance assessment, academic curriculum, educational legislation and human resource management, external evaluation, whole school evaluation and has sat as chairman on a number of school committees.
He has a Degree and a Diploma in Education from the university of the Free State.
Leon is an avid lover of sport and its role in the development of boys at high school and has coached sport at provincial and national level.
He is married to Elmarie, also an educator, and they have two daughters, Chanel, who is studying in the USA and Cassandra who is in Grade 8. Both have already proven themselves on the sports fields.
The Durban High School Governing Body congratulates Leon on his appointment and wishes him every success in the significant role he is to perform as Head of Institution in the future of DHS.