Durban High School


Class Of 1961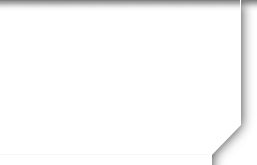 In Memory
Arthur King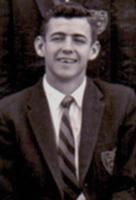 Arthur King was a courteous and well-liked pupil, with a calm and steady nature. His family lived in Mount Edgecombe and he was a boarder for his first year at DHS. He did not take well to the Blackmore's regime, however, and became a day boy for the rest of his school career, even though it meant rising in the morning to take a train into Durban and then a bus to the school. Arthur was with our cohort for only three years, as he repeated fifth form and matriculated in 1962. He was a school prefect in that year and also had a reputation as an excellent piano player. This photo shows Arthur as we remember him: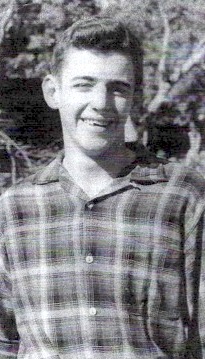 Arthur's outstanding contribution to the school, however, lay in athletics, where he was a record-breaking pole vault champion. He practiced constantly, honing his skills on a vaulting run and pit that he had constructed at his home, and he developed great skill and an assured confidence in his abilities. An entry in the school yearbook for 1961 states, rather laconically:

Fortunately, two press photographs from 1961 survive to show the energy and grace with which Arthur performed his feats: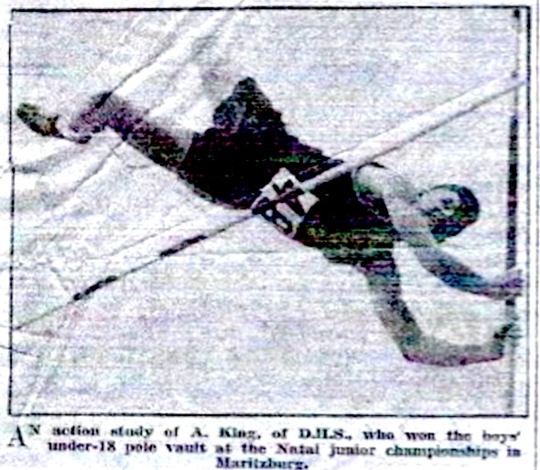 And --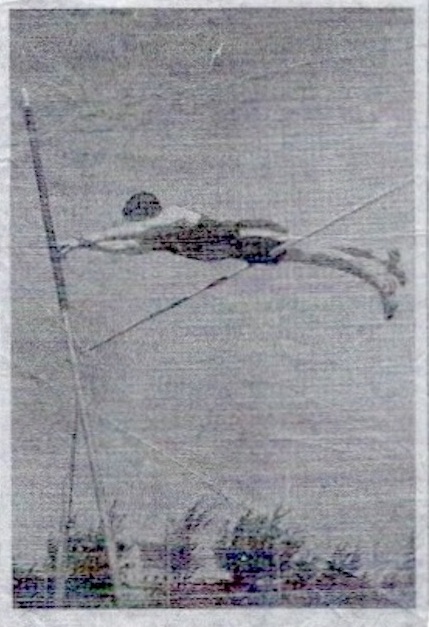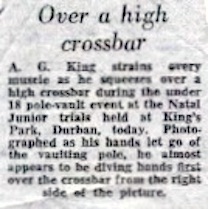 After school Arthur took a position with Lever Bros, along with two classmates, David Douglas and Sam Hackney. The three had never been celebrated for their scholarly achievements, but evidently their boss saw academic potential in them, because one he day bundled them into his car and drove them to the University of Natal to register for a degree course. All three achieved the B.Econ degree after four years of part-time study.
Arthur married Jean Keating, a Durban nurse. They had two boys, Sean and Jeremy, but the marriage ended in divorce a few years later, leaving Arthur to raise the young boys. A few years later he married again, to Dee Lindeman, but this union also lasted only a few years. After no luck in finding a suitable new partner by conventional means, Arthur improbably placed an ad in the "Personals" column of the Sunday Tribune:
GENTLEMAN, divorced, 40 years old, tall, good appearance, residing Durban North, own business, two teenage children, seeks slim attractive female companion, 30 to 38 years. Please enclose recent photo to be returned.
This was a long shot indeed -- but a response came with this photo from the lady who would be his inseparable companion and the love of his life for the next 34 years, Marsha Potgieter. ("Who dares, wins!" she declared!)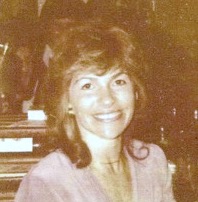 Arthur left Lever Brothers to join his parents' business, the Scarlet Tanager Bird Park in Umhlanga. This enterprise became something of an institution in Durban and a popular destination for family outings. Here's a photo of Arthur with a beloved cockatoo, about 1990: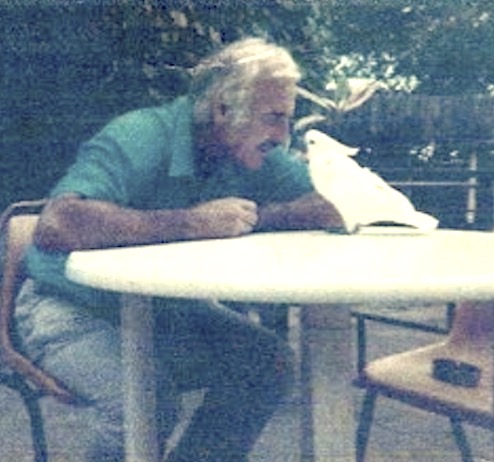 After 30 years in operation, the Park had to close in 1993 -- the City authorities refused to renew its lease because the terrain was needed for development of new, tall buildings. Arthur tried his hand for a while at real estate sales but did not like the work. He then joined a family poultry business near Verulam where he was soon made a partner. He managed the business until he retired in 2011.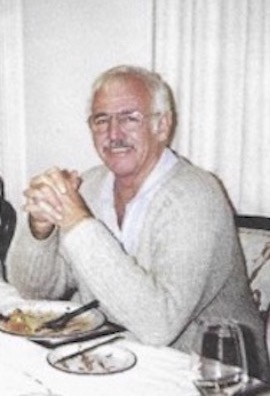 Arthur enjoyed his retirement, with Marsha always by his side, but unfortunately he developed myelofibrosis, a rare but serious form of blood cancer similar to leukemia. The disease progressed until Arthur passed away peacefully, surrounded by family, on 1 April 2018.
Arthur King is survived by his life partner, Marsha Potgieter; his sons Sean and Jeremy in South Africa; his brother Trevor in Cape Town; his brother Harry in Australia; and their families. As Trevor sums up: "Arthur was always a kind, honest and well-mannered man who valued integrity and loyalty highly. He was dedicated to his family and took any commitment he made seriously giving it his best shot"
[Special thanks to Alistair Christie, David Douglas, Trevor King, and Marsha Potgieter for their help with this In Memory notice]