Durban High School


Class Of 1961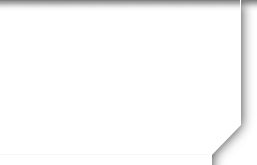 In Memory
Godfrey Mockè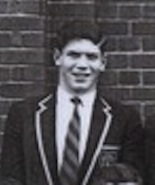 Godfrey Mocke started out with the class of 1960 but joined us in sixth form, where he was well liked for his good humour, benign nature, and gift for entertaining conversation. He also stood out from his peers for his red hair, fluency in Afrikaans, and enthusiastic participation in almost every sport the school had to offer. His particular forte was swimming, and he became captain of the school swim team. He also shared the Niekie Gerber Memorial Prize for Afrikaans.
After school Godfrey lived at varioius times in Cape Town, Durban, and Pretoria, but he eventually settled in Fish Hoek on the Cape Peninsula, where he married Dorothy and raised his children Dawid, Jasper, and Annetjie.
Godfrey remained a keen swimmer all his life, and even in his sixties he thought nothing of diving into the ocean and swimming out to Robben Island, or taking a seasonal job as a life saver in Cornwall, England. All in all, he caculated that he had held 38 different jobs, the most recent as a collector of oustanding taxes for the SA Revenue Service.
Godfrey was an enthusiastic participant in the websites for the classes of 1960 and 1961, and enlivened the Tuck Shop Chit Chat with amusing narratives from his schooldays. He was also a welcome and cheerful presence at gatherings of old classmates in Cape Town in the last three years.
Godfrey remained active and athletic almost to the end, and in November 2012 he undertook a visit to Australia. He returned in time for his 70th birthday on 11 December, a joyous affair celebrated by his wide circle of friends. The following month Godfrey was diagnosed with a melanoma and incurable cancers of the lung and the brain. He received some medical treatment but chose to remain at home in palliative care wth his family. He remained steadfast, sustained by his firm Christian beliefs. After a mercifully short illness, Godfrey died on 11 February. He leaves his wife, three children, and one grandchild.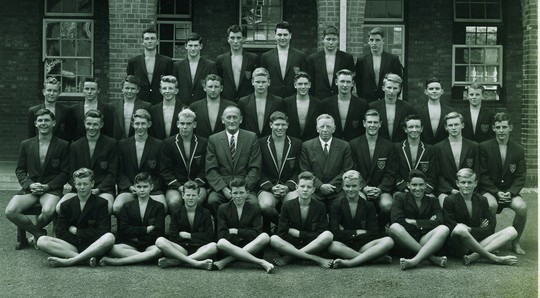 The 1961 Swim Team, with Godfrey as Captain
Still a very fit swimmer at 67 years old!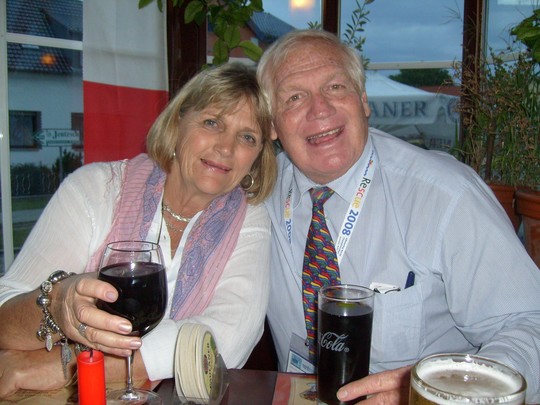 Godfrey with his wife Dorothy